Introduction
The challenge to hiring the right software developer often lies in accurately assessing their skills before investing in training and onboarding. Traditional interviews and resumes are significantly improved by incorporating a developer assessment platform. This platform enhances the hiring process by offering real-world coding questions, enabling hiring managers to better understand a candidate's practical skills, in addition to what is already revealed through interviews and resumes.
In this article, we will explore developer assessment platforms. We'll focus on their unique features, cost, and how long they've been in business and provide an overall score to guide you in making an informed decision.
Software Developer Assessment Platforms
In this section, we will explore each platform in detail, covering aspects such as History and Background, Features, Cost/Pricing Plans, Pros and Cons, Overall Score, and best use. These components provide a comprehensive overview to help you decide which platform is best suited for assessing software developers.
1. Codility
Codility is a robust developer assessment platform designed to streamline the technical hiring process. Trusted by large enterprises, Codility offers various features to evaluate coding skills, conduct real-time interviews, and filter candidates effectively. Its comprehensive functionalities are perfect for companies serious about hiring top-notch tech talent.
History and Background
Codility was founded in 2009 by Greg Jakacki, who was motivated by a need to optimize the tech recruitment process. His vision for Codility was to create a platform to make technical hiring more straightforward and efficient.
Natalia Panowicz is the current CEO at Codility. She is also the co-founder of the company and has been an integral part of its journey. She began as a Business Developer in May 2012 before taking on the role of COO in February 2014. In July 2019, she stepped up as the CEO and has been steering the company since then.
Fast forward to now, and Codility has evolved into a major player in the tech recruitment field. The platform has been used by over 1,200 businesses globally, including well-known names like Microsoft, PayPal, Slack, and Tesla.
Codility raised $22 million in venture capital funding, partnering with experienced investors like Richard Anton at Oxx and Hillel Zidel at Kennet Partners. The purpose of this funding was not just generic growth but to specifically accelerate the company's expansion in the year 2020.
The investment was used for multiple avenues to boost growth. This included hiring additional engineering teams and running more marketing campaigns. The funding allowed Codility to serve more engineering teams and support its rapidly growing customer base, especially among larger enterprise clients.
Keith Wallington, a long-term mentor and supporter of Codility, joined the company as Chairman. His role was to oversee this aggressive growth strategy and ensure the investment was used optimally to meet the company's objectives. Under his chairmanship, the focus was on sustainable growth, enhancing the product range, and expanding the company's market reach.
Features
Codility offers various features to make the hiring process smoother for tech companies.
1. Platform Basics
Integrations:

Integrations refer to the ability of Codility to connect with other tools or software systems that your company may already be using, such as HR management systems or other recruitment software. This ensures a smooth transition of data between different platforms.

Interoperability:

This feature allows Codility to work seamlessly with various software systems. It means you won't face technical difficulties or compatibility issues when connecting the platform with other tools you might use in your recruitment or management processes.

Performance Metrics:

Codility provides key performance indicators that offer valuable insights into each candidate's performance during the tests. This can include metrics like how long a candidate took to complete a task, the accuracy of their answers, or other aspects that can help you make a well-informed decision.
2. Core Features:
File Sharing:

The platform allows both the interviewers and candidates to share files with each other easily. This could be useful for sharing additional resources, task specifications, or code snippets.

Content Library:

Codility comes with a content library filled with pre-made coding challenges and questions you can use during recruitment. This saves time and helps standardize interviews.

Customization:

The platform allows customization in various aspects, such as the coding challenges, the assessment interface, and even the types of coding languages used during the test, allowing you to tailor the platform to your specific needs.

Coding Tools:

These tools are the platform's core functionality. They are equipped with features that allow job candidates to perform coding tasks like in an actual software development environment. For example, a candidate can type code into an editor, run the code to see if it produces the desired outcome, and even debug errors directly within the platform. This makes the interview and evaluation process much more practical and effective, as it helps to gauge a candidate's hands-on coding skills rather than theoretical knowledge.

Performance Insights:

After a candidate completes a test, Codility can generate detailed reports that provide an in-depth performance analysis. This can include code quality, problem-solving abilities, and a play-by-play of how the candidate approached each challenge.
3. Advanced Utilities:
Dashboard:

The dashboard is a centralized control panel where recruiters can manage all ongoing activities. It provides a snapshot of key metrics, ongoing tests, and statuses of various interviews.

Mobile Accessibility:

Codility is designed to be accessible via mobile devices. This enables both recruiters and candidates to engage with the platform on the go, making it more convenient for everyone involved.

Messaging:

The platform includes a messaging feature allowing real-time communication between recruiters and candidates. This could be useful for providing immediate feedback or clarifying questions during the interview.

Soft Skills Testing:

Beyond technical assessments, Codility also offers soft skills tests. These could include tests for communication skills, cultural fit, or other personal attributes that might be important for the role.

Additional Tools:

These refer to any extra features that don't neatly fit into the above categories but still add value to the overall platform, like analytics tools or third-party app integrations.
Cost
Codility's pricing plans start at a hefty $5,000, making it a premium option that is best suited for larger organizations with a substantial budget for hiring. While the platform does occasionally offer a free trial, the high starting cost is consider as a drawback if you're a smaller team or a startup. 
For the most accurate and current pricing, contacting Codility's sales team is recommended. This approach ensures you get a cost estimate tailored to your needs.
Pros and Cons:

| | |
| --- | --- |
| Pros  | Cons |
| User-friendly interface | Grading inaccuracies reported by some users |
| Speeds up the recruitment process | Some find the interface outdated |
| Effective applicant filtering | The desire for more variety in testing options |
| Consistent quality in candidate selection | High starting cost of $5,000 |
| Ability to detect cheating | |
| Multiple testing options | |
| Compatible with various programming languages | |
Best for
Codility is best suited for larger companies with a substantial hiring budget and a constant need for new talent. Its comprehensive features and extensive question library make it ideal for organizations that are looking to streamline and automate their hiring process at scale. Despite a few drawbacks, the platform is highly recommended by most users.
Overall Score
Based on customer reviews and product details on the G2 site, Codility has an overall score of 4.6/5. This score is an aggregate rating provided by G2, derived from multiple user reviews to gauge the platform's overall effectiveness and customer satisfaction.
2. CoderPad
CoderPad simplifies technical interviews by offering a real-time coding environment. The platform comes with multiple pricing options, catering to small and large businesses. It's an excellent choice for organizations in search of an affordable and trustworthy developer assessment platform.
History and Background
CoderPad was founded in 2013 by Vincent Woo, a software engineer with experience at tech companies like Google and Amazon. Dissatisfied with the traditional technical interviewing process, Vincent created a platform to make coding interviews more realistic and interactive.
Based in San Francisco, CoderPad has grown exponentially, amassing over 3,800 customers and hosting over 4 million technical interviews. It has become a go-to solution for companies worldwide, offering real-time coding interviews in over 40 programming languages. CoderPad serves many clients, from startups to large technology companies like Dropbox, Lyft, Spotify, and Quora.
The platform has gained attention for its ease of use and reliability, attributes that stem from Vincent's original vision to streamline the engineering interview process. While exact revenue numbers might not be publicly disclosed, the platform's widespread adoption suggests significant financial success.
Summit Partners recently closed a growth funding round in CoderPad to further the company's expansion and accelerate its hiring process. This comes at a significant time for CoderPad, which has been profitable since its inception in 2013 and recently reported a 50% increase in revenue over the past year. The funding is especially timely as it helps the company adapt to shifts in the labor market accelerated by the COVID-19 pandemic. The investment will be strategically used to refine CoderPad's collaborative programming environment and continue the development of real-world interview settings.
Colin Mistele, a Principal with Summit Partners who also serves on the CoderPad Board of Directors, emphasized the company's impressive growth and profitability as key reasons for the investment. The capital will be primarily deployed to hire additional staff and continue the company's strategic expansion.
With a customer base of over 1,700 organizations ranging from startups to tech behemoths like Dropbox and Spotify, CoderPad plans to use the funding to solidify its market position and expand its offerings to meet the growing demand for remote technical interview solutions.
Features
CoderPad offers a range of features tailored for technical interviews:
| | |
| --- | --- |
| Category | Features |
| Live Coding Environment | Write, execute, and debug code together in a live, browser-based environment. |
| Digital Whiteboard: | Visualize system designs using shapes and text. |
| Take-Home Projects: | Candidates can complete coding challenges asynchronously with automated test case scoring. |
Cost
CoderPad offers four different pricing plans:
| | | | |
| --- | --- | --- | --- |
| Plan | Monthly Cost | Number of Interviews | Best Suited For |
| Free | $0 | 2 Interviews per month | Occasional screenings |
| Starter | $100 | 5 Interviews per month | Startups and small teams |
| Team | $300 | 30 Interviews per month | Teams wanting to standardize and scale their process |
| Plus | $575 | 60 Interviews per month | High-volume interviews |
For custom pricing, you must contact the sales team.
Pros and Cons
| | |
| --- | --- |
| Pros  | Cons |
| Enables real-time remote screening and interviews | It is not ideal for assessing non-coding skills |
| Features automated coding challenges for efficient evaluation | Lacks a robust proctoring system, increasing the risk of cheating |
| Offers real-time feedback to candidates | Some candidates may need help comprehending the coding challenges |
Best for
CoderPad is ideal for companies prioritizing real-time coding interviews and needing a more affordable yet robust solution. It's especially useful for organizations that want to understand a candidate's thought process in a live coding environment. Its range of pricing plans makes it accessible for startups, small teams, and enterprises.
Overall Score
According to data from the G2 site, CoderPad has earned an overall score of 4.4/5. This rating is determined by G2, taking into account various customer reviews to assess the platform's general performance and customer contentment.
3. Interview Zen
Interview Zen is not just another assessment platform; it's your most reliable path to identifying top-tier programming talent.
This platform empowers you to set your own programming questions and observe how candidates solve them in real time. No more sifting through resumes, no more irrelevant questions. Just pure, streamlined efficiency in technical hiring.
History and Background
Interview Zen was created by James Summerfield focusing on simplicity and effectiveness. Interview Zen started its journey in 2010 to revolutionize the technical hiring process. It made front-page news on Hacker News and has continued its journey towards simplifying the hiring process, making it a standout option among its competitors.
Interview Zen has been a trusted resource for 20 years, a testament to its reliability and effectiveness. Companies have created over 110,000 interviews using the platform, while candidates have completed more than 500,000 interviews. With over 1.6 million questions generated, these statistics underscore the platform's extensive use in the industry.
Features
Interview Zen focuses on what's essential:
Custom Programming Challenges:

You set the questions that matter to your business.

Real-Time Observations:

Capture the candidate's thought process and problem-solving speed.

Code Revision Tracking:

Observe how candidates structure and revise their code over time.
Cost
When it comes to cost, Interview Zen is a game-changer. The platform is free to try, allowing you to test it without any financial risk. You get to experience all the features and evaluate candidates without spending a dime. Just sign up and see how it can revolutionize your hiring process.
Easy to Use
When we say Interview Zen is easy to use, we mean it. With just three clicks, you can create an interview, send invites, and start the evaluation process. This platform was designed with user-friendliness at its core.
Try Interview Zen for free
It's free. Just sign up and try it. When compared to other platforms like Codility or CoderPad, Interview Zen excels in simplicity and cost-effectiveness. There's no reason not to give it a shot. Experience the revolution in technical hiring that Interview Zen brings to the table.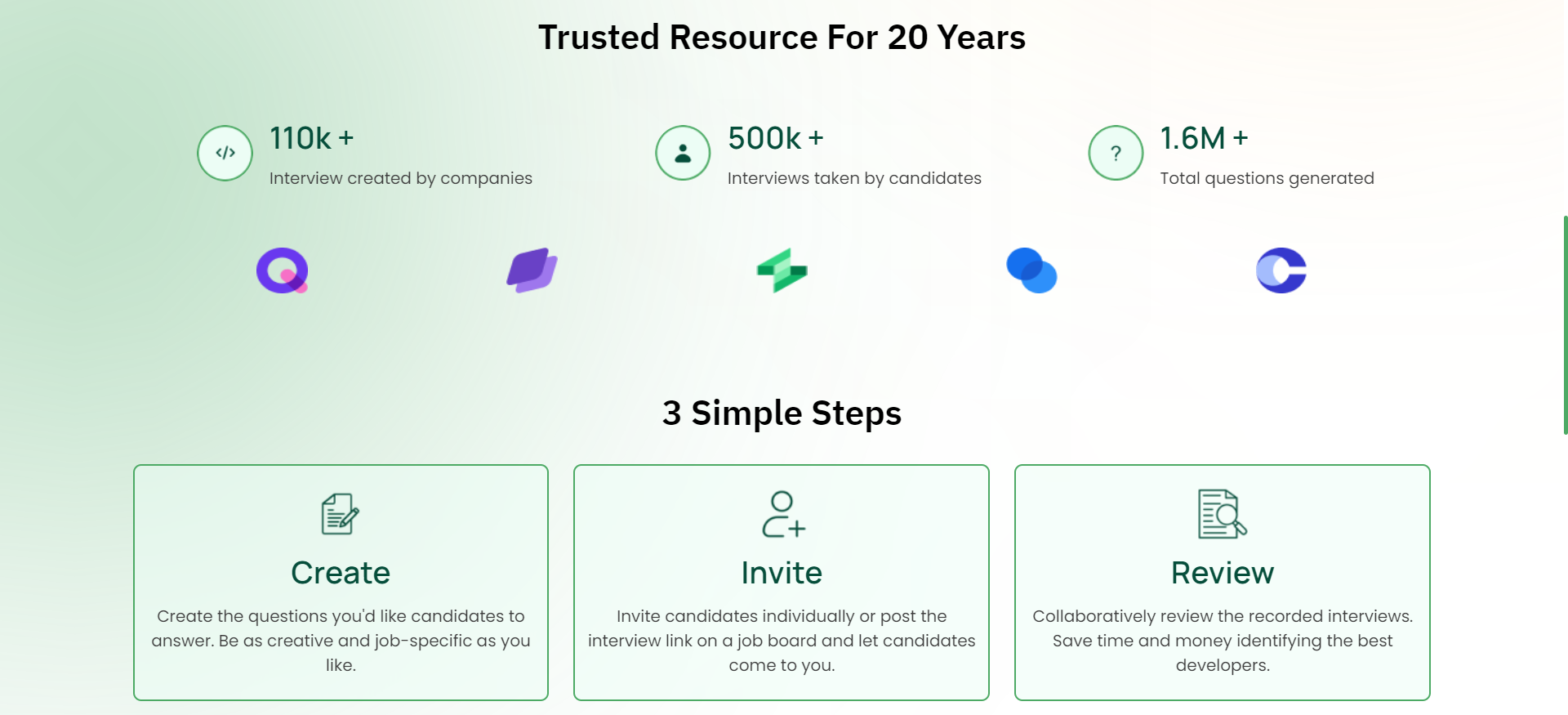 Conclusion
In this article, we've provided a detailed comparison of Codility and CoderPad, two prominent developer assessment platforms. Both offer valuable features, but they cater to different needs and budgets. While Codility is a comprehensive solution with a range of features for technical assessments, it comes at a higher price. 
CoderPad, on the other hand, is more budget-friendly and excels in real-time coding interviews. Your final decision will likely depend on your specific requirements, including budget and types of assessments needed. 
Thoughtful Recommendation
When you weigh the features and costs, it becomes clear that each platform has unique strengths. However, if you're looking for a cost-effective, easy-to-use solution focusing on the essentials, then Interview Zen is a platform worth considering. Its simplicity and free nature make it a standout option.
Just sign up and try it. Its simplicity will speak for itself, and you'll quickly see how it can be a game-changer in your technical hiring process.
Explore Interview Zen
Ready to simplify your hiring process? Don't wait. Give Interview Zen a try today. Check out their home page to get started.
Read more article:

---
---
---
---
---